Stream/play the video above.
Supporters may
download content below.
---
MORE FROM THIS RELEASE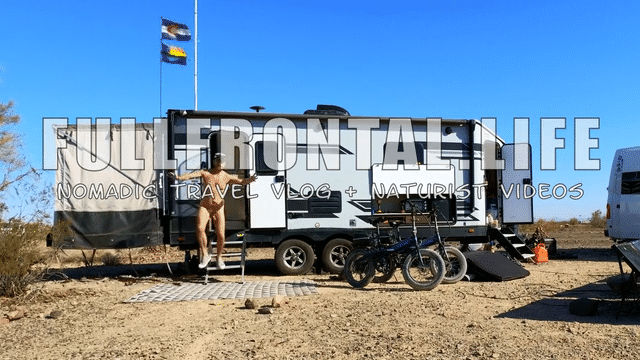 We depart the nudist BLM camping area known as the Magic Circle.
After spending much of the winter in southern Arizona in the Magic Circle, we depart for Tecopa Hot Springs, in California not far from Death Valley.
We enjoyed the nude-required hot springs in Tecopa before heading to Salt Lake City. Along the way in Beaver, UT, we perform an emergency RV repair.
We finally make it to SLC and drop our van off for its 4×4 makeover.
---
BONUS SUPPORTER CONTENT:
Image & Animated GIF Pack
Download
HD & 4K Video
Downloads Coming Very Soon
(July/August 2022)
Thank you for supporting new content
& for helping normalize nudity!
---